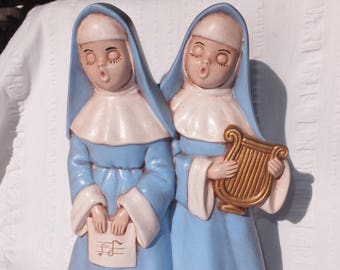 I am going to tell you a story that happened back in the late fifties (last century!) as told to me by an aged Nun, who had some connection to the incident. While the story I tell, dramatized as it is, is a true story, the ending as I portray it, is , unfortunately a different one than the reality…but let us not lower our expectations, but aspire, like the 'Sister Cecilia' toward higher goals.
Sweet Innocence:
The knock was gentle and unobtrusive, indeed it had to be repeated before Mother Superior was taken from her reverie gaze out of the window over onto the cool spread of lawn out the back of the building. She turned to glance over her shoulder.
"Come in," she called. A diminutive nun entered, aged around sixty years, her white hair shining against her white scrubbed face. Her cheeks glowed with two cheery pink blushes.
"Ah!. .. Charity," the little nun greeted "A pleasant morning isn't it?"
"Yes Sister…thanks be to the lord Jesus Christ in all his benevolent mercy," Mother Superior answered in reply.
"Yes…yes…to be sure….Well now, Charity…you sent for me?"
"Yes…It's about the choir."
"Ah!" The little nun brightened up, for the school choir was her "special baby," her pride and joy, and it would be said that several girls from her tutorage had risen to sing in the state orchestra! Proud, she was of her "little choir," her "little nightingales."
"Yes Sister Cecilia, the choir." Mother Superior addressed the little nun with her formal title and this warned her of an imminent lecture or something. The little nun clasped her hands together as she always did when concentrating. Mother Superior turned from the window and sat briskly down at her desk. The little nun stood on the other side, waiting. "Now, Father Collins and I sat and listened to the choir last Sunday at the morning service…"
"Oh Charit…Mother Superior , weren't they just divine, the sweet innocents, I do believe they sung their little hearts out last Sunday…."
"About Caroline Halsbury…" Mother Superior interjected.
"And Caroline Halsbury…" the little nun put her fingertips to one of her cheery cheeks and rolled her eyes to the ceiling… "that girl has the voice of an angel….if ever there was soprano material…"
"Sister Cecilia!!" Mother Superior cried impatiently.
"Yes?" the little nun answered, wide eyed.
"Be so kind as to stop prattling when I am trying to tell you something….goodness knows it isn't easy what I have to say without the running commentary…"
"Well, I do apologise, Charity, but I am rather fond of my girls," the little nun fidgeted.
"That may be so, Sister, and both Father Collins and myself agree that they sounded beautiful….charming…." She paused and toyed with a pen on her desk. "Not withstanding all that however, we were also of an opinion that their appearance is also of the utmost importance, almost, (since they represent the college in appearance as well as voice), almost as important as their singing…which brings us to Caroline Halsbury…." She paused expectantly, the little nun looked puzzled.
"I…I don't see the point, Mother Superior."
"Oh Cecilia, really!" Mother Superior leapt up impatiently from the desk and rolling her hands together strode once again to the window. There was an embarrassed moment when both nuns remained silent.
"Well, really, Sister Cecilia….its…its, well, that birthmark right across her face!" she blurted out finally.
"Birthmark?" the little nun seemed fazed.
"Yes, bother it, the birthmark!…that Port-wine stain..that livid blot across the entire left side of her face…surely you're not blind Sister?" Mother Superior turned from the window, her fists clenched in frustration so the knuckles were white, she had hoped it would go smoother than this.
"Why of course I know it's there, it is rather unfortunate for the child, I dare say, she'll have to live it down her whole life…"
"…She'll have to leave the choir!"
There was a moments stunned silence in the room, a shaft of sunlight burst onto the red velvet piano chair and two yellow- tailed finches alighted friskily on a branch of flowering golden wattle outside the window and sending sprays of dew onto the lawn. The little nun stood with her mouth open, hands raised in front of her, the cheery spots now faded from her cheeks.
"Leave the choir?…but why?…just because of her birthmark?… Oh Charity, I implore you…"
"It's very, very distracting having to sit and look upon it, Cecilia, both Father Collins and I agree on it and I might add I overheard Mrs Herreen remark the same sentiments to Mr Herreen. Its just too distracting and it upsets the….the harmonious balance between the hymns and that glow of…of…well as you said yourself…'sweet innocence.' ".
The little nun's temper was quickly rising and the pale blushes on her cheeks now became crimson.
"Are we then to set a precedent of judging books by their covers, Mother Superior?"
"Oh, Lord bless us Sister, the whole world judges books by their covers, and men by the cut of their clothes and girls by their good looks! The choir is a showpiece for the college and as such should be above criticism in both performance and appearance! The girls in the choir should be the pick of the school, we'll leave Nature supply their beauty, their voice training only is in your hands, Sister…you understand?" This tirade left the little nun speechless and sad, she remained silently standing with her head bowed. "So…" continued Mother Superior after letting that sink in, "unless something can be done to hide it, she'll… unfortunately…have to vacate her place in the choir." Mother Superior's voice softened a little at the last. "Will not make-up cover it?" she inquired.
"Both her mother and herself have tried, but it has to be so heavy it becomes obvious in itself," the little nun remarked quietly, fatalistically. Mother Superior pinched her lips together in exasperation of the whole ugly incident, none the less she pressed on.
"Well… that's how it stands then Sister, if you cannot come to a satisfactory cosmetic solution by this Sunday, I'm afraid she'll have to resign from the choir….That will be all for now," Mother Superior said in a stern dismissal and watched furrow-browed as the little nun left the room. Sister Cecilia left the office seething with anger.
"How cruel," she hissed, "how thoughtless," she cried to herself, "who were these people to see only the substance of the thing and not the spirit? Who were they to judge the body and ignore the soul? How thoughtless, how odious, how cruel!"
All week she pondered and puzzled on the problem, made all the more difficult in that Caroline Halsbury was one of the main singers in the front line of the choir. At times the little nun would, in the middle of a meal or even at an afternoon service, be seen to mumble to herself or shake her head quickly as in dismissing an option, all to the inquiring glances of those near her. She had not told Caroline Halsbury of Mother Superior's instruction nor had she told any of the other girls in the choir. She had hoped something would come to mind that would make all the unpleasantness unnecessary. But to no avail and here it was Saturday afternoon. Again her temper flared as she sorted the hymns for the Sunday Mass.
"Bother and bother them!" she said angrily as she slapped the music sheets down on the organ. She glanced up to the altar in a blush of shame for her temper. "I'd like to show them, Lord, put them in their place, oh no, not for me, blow it, but for Caroline." Suddenly an idea flashed through her mind like a bolt of lightning.
"Why….why of course…how very….very right." She quickly gave a sign of the cross to the statue of Jesus up on the left side of the altar, the statue of Jesus with the striking red sash draped across his sacred heart!
The choir sang out beautifully from the first note of Mrs Gilchrist's deft touch on the church organ at the Sunday Mass, their collective voices harmonised as sweet as a chorus of nightingales from the darkened cloistral choral stalls so that many a parishioner in the congregation sighed for the glory of those sweet voices.
"Sweet innocence," Father Collins remarked with a nod of his head to Mother Superior. "Sister Cecilia has certainly achieved top note with those girls," he remarked, then; "and did you have success with that little suggestion we put forward, Mother?"
"I believe so," Mother Superior answered, "though it is rather dark  there in the choir box, but I'm certain she would not disobey my instructions and I was quite clear as to what they were, I can assure you, Father."
"I say, Charity," Father Collins leaned down to her ear, "it would be an extra fillip for the college if those angelic girls could be seen more clearly by the congregation while they are singing". Mother Superior looked at him, nodded her head and smiled.
"How true, Father, and I think I can arrange that." she motioned with her finger for a little girl to come to her. "Go quietly to that doorway over there, and you see that row of switches there next to it, yes? Then turn on the one farthest from the door….you understand?….good, now off you go," and she edged the girl on her way. "The light for the choir stalls," she informed Father Collins.
The young girl paused at the switches and turned a querying glance to Mother Superior. Mother Superior raised her eyebrows and gave a curt nod of her head and the young girl threw the switch. An excited but muffled cry rippled through the congregation as all glanced to the illuminated choir stalls, not the least from Mother Superior who couldn't suppress a cry of horror, for there, singing with such sweet harmony were a dozen girls, the pride of Cornellia College, every one of them disfigured with a crimson splash of a "birthmark" covering the left side of their faces, every "birthmark" exactly like the one occurring naturally on Caroline Halsbury's face! Sister Cecilia, who was conducting the choir with her back to the congregation, now turned and gave a nod of respect to Mother Superior and Father Collins, the same crimson mark penciled vividly over her left cheek.